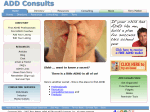 ADD Consults

If you need help NOW for your or a loved one's ADHD, visit www.addconsults.com. Find clinicians in your area, articles, support, products to make life with ADHD easier, plus personal consultations with national ADHD expert and author, Terry Matlen, ACSW.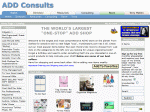 myADDstore.com

myADDstore offers products to make your life with ADHD easier and more productive: organizing and time management tools, parenting resources, books, sensory products and much more.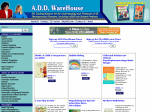 ADHD Warehouse

ADD WareHouse is the world's largest distributor of books, DVDs, training and assessment products for children, adolescents, and adults with ADHD and related disorders of oppositional behavior, conduct disorder, autistic spectrum disorder, learning disabilities, depression, and anxiety. Sign up for our free e-newsletter containing articles on ADHD and special sales available at www.addwarehouse.com.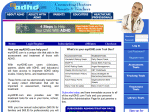 myADHD.com

myADHD.com is a unique site that aids in the assessment and treatment of those with ADHD. With myADHD.com users (clinicians, parents, adults with ADHD, and educators) will have access to important ADHD rating scales, history forms, and treatment tools. These forms can be electronically transmitted to easily collect information that will be important in assessment, tracking, and treatment. myADHD.com also provides over 100 treatment tools for use in your home, school, or practice.